LGJ-30F top press Freeze Drying Lyophilizer
Pilot Type Freeze Dryer is very widely used in food freeze drying at present. After being freeze dried, food can maintain their characteristics for a long time. LGJ-30F top press lyophilizer is a mediumf reeze drying lyophilizer with gland, it could not only freeze dry bulk material, but also liquid material.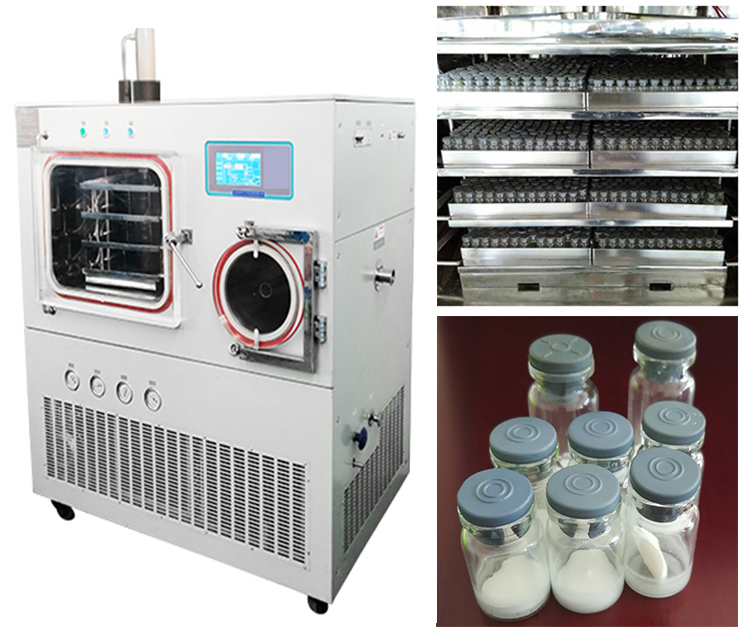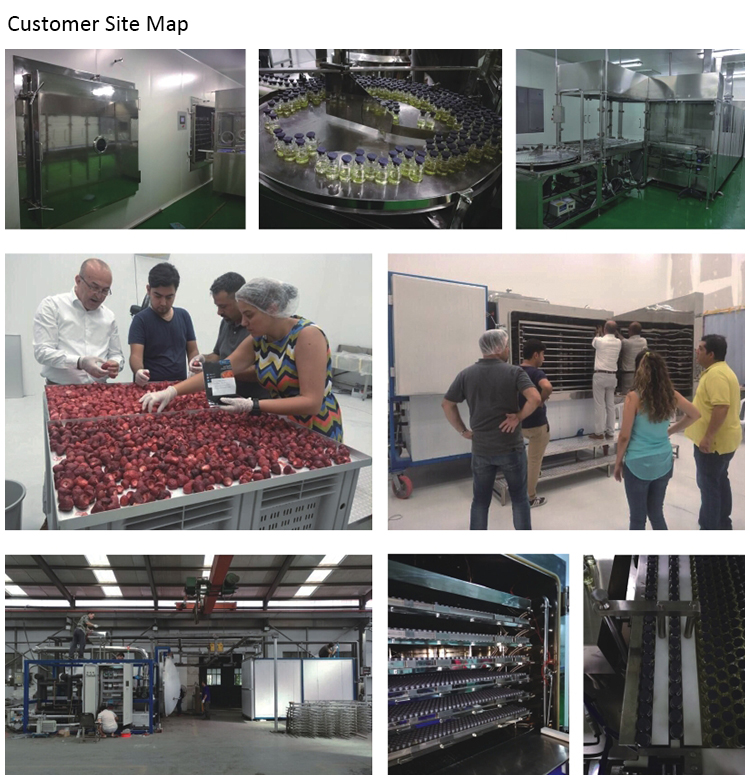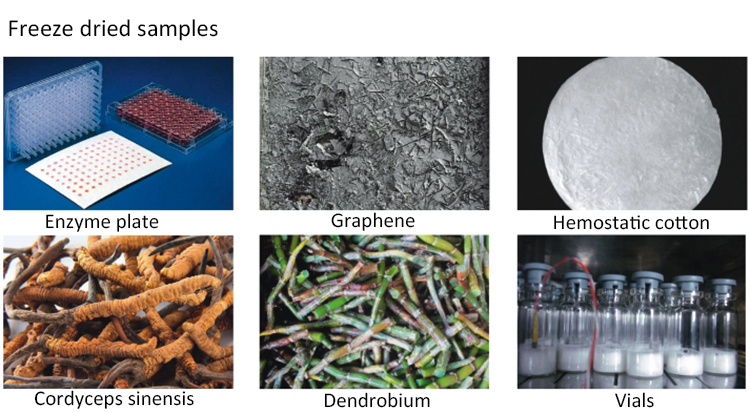 Technical data of LGJ-30F top press freeze drying lyophilizer
Model
LGJ-30F LGJ-30F top press freeze drying lyophilizer
freeze drying area
0.3 sq.m.
tray dimensions
295*335mm
tray numbers
3pcs
shelf dimensions
300*340mm
shelf layers
3+1pcs
shelf spacing
70mm
shelf temp. range
-50℃~+70℃
shelf accuracy
±1℃
cold trap temp.
≤-75℃
ice collecting capacity
≥6KG/24h
pumping speed
6L/S
ultimate vacuum
≤5pa
power
5500w
main unit weight
400kg
main unit dimensions
1260*850*1420mm
cooling mode
wind cooled
bulk capacity
3L(thickness 10mm)
vials capacity

dia 12mm:2187pcs

dia 16mm:1200pcs

dia 22mm:654pcs

Main features of LGJ-30F top press freeze drying lyophilizer
1. LGJ-30F top press pilot type Freeze Dryer is our company's patented product . Freezing and drying is finished in the same place. It is easy to operate,and have a good drying effect.
2. The ACRYLIC material of LGJ-30F top press Pilot Type Plant Freeze Dryer is used for the drying chamber door. It is colorless, transparent, and the whole process of lyophilization can be observed.
3. Inflatable (drainage) valves of LGJ-30F top press Pilot Type Pharmaceutical Freeze Dryer uses safety diaphragm valves, which can be connected to an inert gas source, and filled with inert gas after drying to extend material storage time.
4. LGJ-30F top press High Quality Freeze Dryer use patented gas diversion technology, uniform ice catching in cold traps, and strong ice catching capability.
5. LGJ-30F top press good quality freeze dryer has internationally renowned brand compressors, high efficiency, long life, low noise.
6. Separator patented technology and partition temperature fuzzy control technology, the shelf temperature difference is small, the temperature control accuracy is high, and the drying effect is even.
7. The freeze-drying curve optimization control technology can control the cooling rate in the pre-freeze phase, and at the same time, it can control the sample heating rate and the current stage vacuum degree in the sublimation and analytical drying stages.
8. The powerful sensor calibration function ensures the long term accuracy of the measured value.
9. 7-inch true color industrial embedded touch screen + SH-HPSC-II modular controller, high control accuracy, stable and reliable performance.
10. The professionally designed FD-EMB control system can save hundreds of process recipes. Each recipe contains 50 temperature control zones to improve the process optimization rate.
11. Intelligent data recording system, real-time record and display the cold trap temperature curve, sample temperature curve, vacuum curve, export data can be viewed through the computer and print a variety of operations to facilitate process optimization and verification of drying effect.
12. Flexible manual + automatic control, manually used for groping the process, automatically used for mass production.
13. Real-time alarm display and historical alarm query function to facilitate fault diagnosis and equipment maintenance.
14. Setting the user level and password , and decentralizing operation management.